The sky is getting busy. As well as countless thousands if unmanned space satellites, of all shapes and sizes, the International Space Station isn't the only house-in-space out there: In 2011 China launched the Tiangong 1 space station. The name means 'heavenly palace'* - the Chinese
actually bothered to give their space station a name rather than just a blandy-mc-bland-bland description.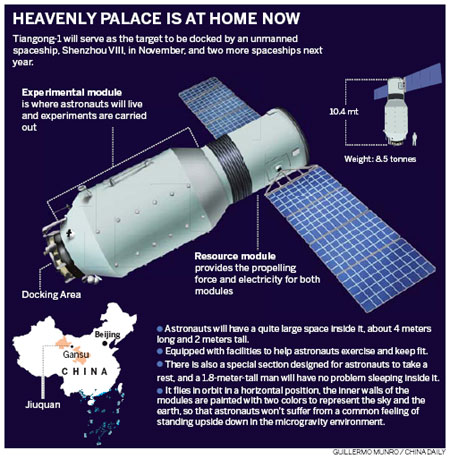 The Tiangong station is a lot smaller than the International Space Station, but cut them a break (only on this topic) - it's their first one. Tiangong 1 was designed to help the Chinese space program to find its feet, and they plan to have a station similar in size to the ISS by 2020.
Image above: A Chinese taikonaut (The Chinese have to be different) literally doing some flag waving in space. Yes, Tiangong 1 is definitely a politically motivated program - but then so was every space mission since Sputnik....
And, like the ISS crew, the Tiangong 1 crew spend most of their time doing science experiments, exercising (weightlessness has bad effect on your fitness if you don't work out everyday), gawping blankly out of the window, and giving online science lessons....
*It looks more like a flying campervan if I'm honest, but never mind.